About itihaasa Research and Digital
itihaasa Research and Digital (www.itihaasa.com) is a not-for-profit, Section 8 company that studies the evolution of technology and business domains in India. Kris Gopalakrishnan, co-founder of Infosys, is its founder and Chairman. N. Dayasindhu and Krishnan Narayanan form the Management Team.
itihaasa's flagship project is chronicling the six decades of the evolution of the history of Indian IT.
itihaasa has published research reports on the following topics:
Point of View on generative AI tools like ChatGPT
Read Kris Gopalakrishnan's perspectives on "Unprecedented Challenges and Opportunities for Higher Education" (March 2023) — Report
Automotive and Mobility Ecosystem X-verse Innovation - Applying the PIE X lens to digitalized automotive and smart mobility experiences (March 2023) — Report
Becoming a Co-creative Living Enterprise in the X-verse (December 2022) — Report
Retail and Agri X-verse Innovation (December 2022) — Report
Point of View on leveraging digital in India for impact
Healthcare X-verse Innovation (September 2022) — Report
Education X-verse Innovation (August 2022) — Report
A Report on the AI & Data Science Workforce (August 2022) — Report
Digital India Innovation and the Experience-verse Revolution (June 2022) — Report
History and Future of Digital Health in the World and India (November 2021) — Report
Digital Health in India (June 2021) — Report
The Digital Journey in the New Normal – How are organizations leveraging emerging technologies in response to COVID-19? (August2020) — Report
Assessing the Impact of Covid-19 on IT Companies in India (June 2020) — Report
Leapfrogging into the New Future with Exponential Technologies (March 2020) — Report
Emerging Technologies in e-Governance (October 2019) — Report
Reimagining India in 2030 (September 2019) — Report
Landscape of AI/ML Research in India (December 2018) — Report
Landscape of Brain Research in India (December 2018) — Report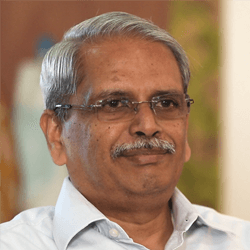 Kris Gopalakrishnan
Chairman itihaasa Research and Digital
Kris is widely recognized as a global business and technology thought leader for his role in growing the IT services industry globally. He started his career at Patni Computer Systems, after which he co-founded Infosys where he retired as the Vice Chairman. He is an active contributor to industry, having been the President of CII and co-chair of the World Economic Forum in Davos. He continues to play a role in shaping the technology ecosystem through a myriad of roles. Kris serves on the Board of Governors of Okinawa Institute of Science and Technology (OIST) and is the Chairman, Board of Governors of IIIT, Bangalore. He is the Chairman of the Vision Group on Information Technology of Karnataka Government and the Chairman of CII Start-up Council. He invests in promoting research on Brain sciences, aging related disorders as well as investing in start-ups and start-up ecosystem.
While in Patni Computer Systems, Kris developed a real time control system for the furnaces at the Rourkela steel plant.
Professional Career: Chairman itihaasa Research and Digital, Chairman Axilor Ventures, Co-founder & Ex-Vice Chairman, CEO & MD of Infosys
Education: MTech IIT Madras, MSc IIT Madras
Awards/Recognition: Padma Bhushan, Top CEO by Institutional Investor, Fellow of Indian National Academy of Engineers (INAE), Honorary Fellow of Institution of Electronics and Telecommunication Engineers (IETE) of India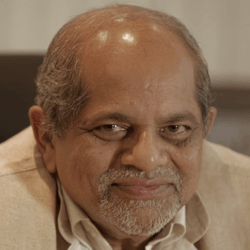 Ashank Desai
Ashank is an industry veteran well known for his focus on education and entrepreneurship. He founded Mastek and led it to be among the top software companies in India. He is a founding member and past chairman of NASSCOM. He was also the President of Asian Oceanian Computer Industry Organization (AOCIO) founded for the development of IT in over 20 countries in the Asia-Pacific region. He has been a member on the governing boards of IIM Ahmedabad and IIT Jodhpur. He also serves on the advisory boards of SJM School of Management, IIT Bombay. He is the Vice-Chairman of Society for Innovation and Entrepreneurship (SINE) and charter member of TiE.
The first program that Ashank Desai wrote in Mastek was a FORTRAN program to invert a large 200X500 matrix on a memory constrained, 64kb computer to solve a structural design civil engineering problem.
Professional Career: Founder & Ex-Chairman of Mastek
Education: MBA IIM Ahmedabad, MTech IIT Bombay
Awards/Recognition: Fellow of Computer Society of India, Distinguished Alumnus by IIT Bombay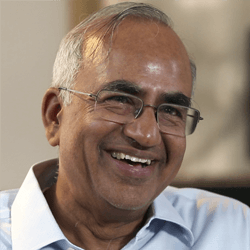 S Mahalingam
Mahalingam is a TCS veteran. He has held a diverse portfolio of roles including Project and Delivery Centre Management, Marketing, Human Resources, and Learning & Development, before becoming the CFO in 2003. He played a key role in carving out TCS Division from Tata Sons and then managing the preparation, road shows and complete transition to being a publicly listed company He is credited with successfully managing TCS's hedging strategy through some of the most turbulent currency fluctuation periods. At TCS, he is credited with developing the software factory and assembly line tool based model to solve the Y2K problem. He currently serves as Independent Director in the Boards of a few listed and unlisted companies. He is also a member of governing boards of a few non profit organisations in the Education, Healthcare and Legal Service sectors
Mahalingam - the first non-engineer non-science graduate employee of TCS- joined in 1970 and retired from TCS in 2013 after a 42 year career.
Professional Career: Ex-CFO of TCS
Education: CA
Awards/Recognition: CFO of the Year by International Market Assessment (IMA), Best Performing CFO by CNBC-TV 18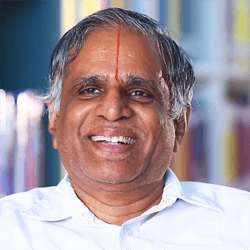 Prof. S. Sadagopan
Prof S. Sadagopan is the Founding Director of IIIT Bangalore, a premier new generation university set up in the 1990's with a focus on IT, where he leads visioning, planning and executing growth. His research of over 25 years spans Computer Science, Operations Research, MIS and Enterprise Computing. He consults extensively with some of the largest private and public enterprises in these domains. He has also authored five books in the areas of MIS, ERP & IT trends.
Prof. Sadagopan started his career in the Systems Engineering Group in Engineers India Ltd in 1973, soon after his undergraduate degree and before his graduate studies in USA
Professional Career: Founding Director of IIIT Bangalore (since 1999), Professor at IIM Bangalore (1995 to 1999) & IIT Kanpur (1979 to 1995); Semester-long teaching assignments at RUTGERS - The State University of New Jersey - USA (1997) and AIT, Bangkok, Thailand (1990)
Education: PhD and MS from Purdue University, USA, BE (Hons) from College of Engineering, Guindy, University of Madras
Awards/Recognition: JN Tata Scholar, Fulbright Scholar, Fellow – IEEE (UK), Computer Society of India (CSI), Institution of Engineers (India); Cisco - Digital Pioneer Award; BITES - Lifetime Achievement Award, Rotary Honour of Vocational Excellence, Intel India Technology Excellence Award; College of Engineering, Guindy, Distinguished Alumnus Award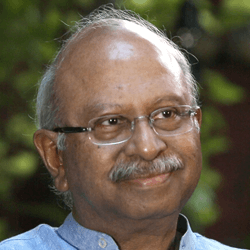 Saurabh Srivastava
Saurabh Srivastava is an IT industry veteran with over four decades of experience being an entrepreneur and investor. He founded and chaired IIS Infotech, which got listed post-merger, as Xansa on London Stock Exchange. He has served on the National Executive Committees of CII and FICCI. He has served on Indo-EU Round Table, Prime Minister's National Innovation Council and IT Ministry's Committee on software exports. He is passionate about promoting entrepreneurship and has co-founded the Indian Angel Network and is Chairman Emeritus of TiE Delhi. He has also invested in over 100 startups and serves on the boards of several Indian and global organizations.
His public service commitments have included the National Innovation Council, SEBI Committee on Alternative Investment Funds, Software Technology Parks of India, Bombay Stock Exchange Hi-Tech Advisory Panel, Telecom Centre of Excellence, Railway Expert Committee, PM's Empowered Committee for Awards on Excellence in Public Administration and the National Expert Advisory Committee on Innovation, Incubation and Technology Entrepreneurship.
Saurabh was part of the Software India Seminar - a roadshow showcasing India's expertise in software services in the USA during 1987 - where the idea of NASSCOM was first conceived.
Professional Career: Co-founder & Former Chairman of NASSCOM, NASSCOM Foundation, IVCA; Chairman Emeritus TiE Delhi, Co founder Indian Angel Network
Education: Masters Harvard University, BTech IIT Kanpur
Awards/Recognition: Padma Shri, Honorary Doctorate in Technology from University of Wolverhampton, UK, Lifetime Achievement Award from DataQuest, Distinguished Alumnus from IIT Kanpur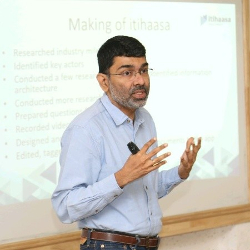 N. Dayasindhu
N. Dayasindhu is co-founder and CEO of itihaasa Research and Digital. He has over two decades of experience including a decade in Infosys. He has advised Fortune 500 companies on IT and R&D globalization. His research interests are Indian industry including Indian IT, competitiveness, and national R&D and innovation ecosystems. Dayasindhu is cited more than 350 times by researchers in all permanently inhabited continents of the world. Dayasindhu holds two United States patents. He has a PhD in Management from IIM Bangalore, and a Masters in Physics from IIT Madras.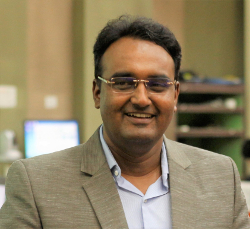 Krishnan Narayanan
Krishnan Narayanan is co-founder and President of itihaasa Research and Digital. He brings over two decades of experience in digital consulting and technology commercialization. He spent 13 years with Infosys, where he was a member of the Infosys Labs Management Council, managed a global transformation program in partnership with Microsoft and collaborated with research & innovation clusters from the U.S., Netherlands and Australia. He founded a water start-up in India. He has a Bachelor of Technology degree from IIT Madras and a management degree from XLRI Jamshedpur.